Ah, Christmas movies. They make me happy and feel just like a kid again. I watch them year after year, no matter what. There are a lot of great ones out there, here are my top 10:
10) It's a Wonderful Life - a heartwarming story, even if the little girl's voice is maybe the most annoying thing ever. Be happy with the life you have, because the world would be completely different if you weren't a part of it.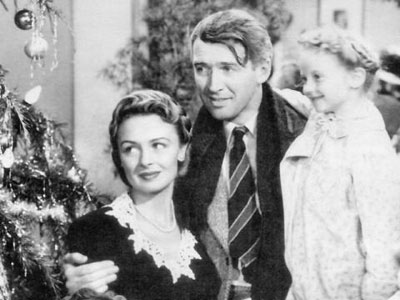 9) Merry Christmas, Mr. Bean - My childhood memories involve knowing when Dad was watching Mr. Bean because he would be laughing so loudly that you could hear it all over the house. Mr. Bean makes me laugh too, a lot. Like when he gets the turkey stuck on his head. Hilarious!
8) The Grinch Who Stole Christmas - My favourite thing ever is when the Grinch comes up with his plan and his smile grows and grows and grows. I think he is adorable! And Max, who doesn't love Max the dog?
7) Frosty the Snowman - I grew up watching this every year. Any show that advocates for children hopping on a boxcar with a creepy grown man snowman come to life is a show for me!
6) National Lampoon's Christmas Vacation - Is there anything about this that is NOT hilarious? The squirrel, the cat wrapped up as a present, the Christmas lights... what's not to love??
5) Garfield's Christmas - Another of my childhood classics. Watched this every year growing up. We get to see a sweet spot in Garfield, and we get to meet the chili-eatin' piano-rockin grandma - love her!
4) Muppet Family Christmas - When Muppets and Sesame Street and Fraggles get together in one house, you get a pretty amazing movie. Watch out for the icey patch!!
3) Rudolph - I have the figurines on my Christmas Tree, that's how much I love these. The Abominable Snowman and the Island of Misfit Toys are amazing. The idea that even misfits can fit in and be loved, so sweet!
2) Claymation Christmas - Not as many people know this one, but it is amazing, I wish I had it on DVD. A series of Christmas songs all done in claymation presented by the two lovable dinos with their bantering. Throughout it all, we learn of the true meaning of wassailing (not waffelling or waddeling).
1) Charlie Brown Christmas - My absolute fave Christmas show! First of all, the music is amazing. Secondly, we get Charlie Brown and the gang's dance scenes. Thirdly, we learn the true meaning of Christmas from Linus - beautiful!
What are your must-see Christmas movies?