A while back I read a post over at the Society of List Addicts about
Favourite Books from my Childhood
, and that inspired me to create my own. I read
a lot
as a kid. I'm not going to include storybooks, instead I'll stick with the ones I was obsessed with in paperback form as a pre-teen / early teenager.
1) Invitation to The Game - Monica Hughes:
Honestly, I think they should make a movie of this. I read this book more times than I ever read a book in my entire life, it was just that good. I wanted to be Lisse and live in that futuristic dystopia. Now, I loved many of Monica Hughes' other books, but this one definitely takes the cake as the best. In case you haven't read it,
go here to read a review
.
2) The Babysitter's Club - Ann M. Martin:
I read almost every book in the series, squealed with joy when the movie came out, and went to get my babysitting liscence ASAP because of this series. I imagined I was these girls. Anything that can glamourize babysitting to pre-teens is an amazing series.
Here's the background info
.
3) Nancy Drew - Caroline Keene:
I read a good many of this series as well. Nancy Drew is an amazing girl who, with her 2 best friends, nice car, helpful daddy, and handsome boyfriend, solved various mysteries, often including creepiness and life-risking - everything you would expect from a good mystery.
Check out the background of the series
.
4) Anne of Green Gables / Emily of New Moon - L.M. Montgomery
Both series (Anne and Emily) were written about East-coast Canadian children who are orphaned and grow up in adopted families (Anne) or with relatives (Emily). Both are daydreamers and have a small group of close friends that they win over, and the series' follow each of them transform into successful young women. Here's info about
Anne
and
Emily
.
5) My Teacher is an Alien - Bruce Colville (and pretty much all of his other works):
I was obsessed with Bruce Colville. My friend and I even wrote him fan mail (although I don't remember if we ever sent them). It went along nicely with my obsession with all things space-related. Three school-aged kids who find out that their teacher is, in fact, from outer space. I wanted to be Susan and had a total crush on Peter, and wished pretty much daily that I would be taken into space. Here's
more info
.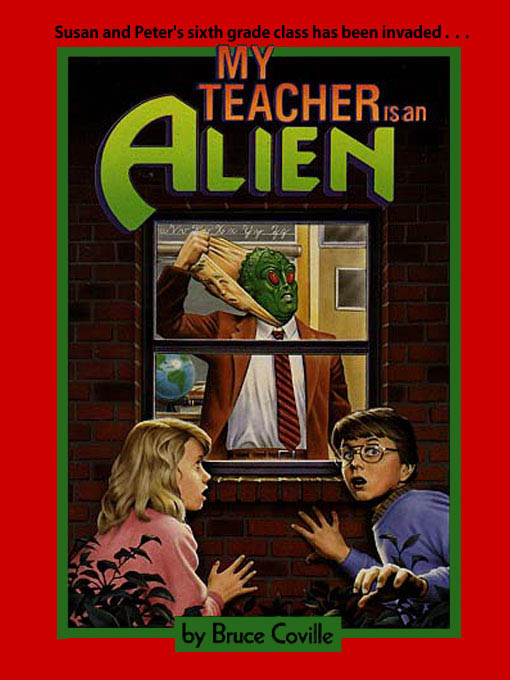 6) Tomorrow When The War Began - John Marsden:
This was a series about a group of teenage friends who were camping in the woods for the weekend when their country (Australia) is invaded by another country. These teens are some of the few people who remain free after the invasion and they help to lead attacks against the invaders, all while experiencing their own coming of age. I read this during a time when I was obsessed with all things war-related - between this, and WWII novels, I wonder if my parents were ever worried about that obsession. Here's
more about the series
.
7) The Chronicles of Narnia - C.S. Lewis:
I don't even need to explain this, do I? I think Mom read all of them outloud to us growing up, every night before bed. When I got a bit older, I read them all myself. There is possibly nothing better as a child than to be read to about talking animals, fairies, nymphs, fawns, and royalty as you're drifting off to sleep, and then, when you're old enough to read it yourself, re-reading the series and being captured by the magic all over again, remembering it just as you heard it as a child.
Here's more about the series
.
8) Madeline L'Engle - anything by her - especially A Ring of Endless Light and A Wrinkle in Time:
Youth protagonists coming of age while the storylines cover modern science and fantasy events with a religious tinge - they were just perfect for what I was interested in growing up. The religious aspects reminded me of the stories I grew up hearing at church, and made them "cool" again by adding in science and fantasy. Here's more about
Madeline
.
9) Little House on the Prairie - Laura Ingalls Wilder:
Another series that Mom read to us growing up (I think Mom's reading to us had a lot to do with how much my sister and I read later in life). This one based on the real life stories of the Ingalls family settling on the prairie. My sister and I used to pretend we were the girls in the story, we'd go outside and play Little House. It also inspired a lifelong fear of panthers. Here's more
about the series
.
10) His Dark Materials Trilogy - Phillip Pullman:
I recently re-read these books again, and they are just SO good. Don't let the recently made movie be any base on which to judge the series. Lyra and Will are from different versions of Earth, and they battle together for the forces of good while coming of age. Also combining religion and fantasy, it's not surprising that I was drawn to it. Although, I read it much later than most kids, because I picked it up when I was too young, got confused, and didn't pick it up again for much too long. All the same, incredible series.
Go find out more
.
So there you go. The pre-teen / early teenage books that I obsessed over, and that honestly helped shape who I am today.
What were your favourite books / series as a pre-teen and early teenager?